i feel like strolling down a beach now! in this wonderful windy weather(:
okay, its 10am! im awake and im going to get ready for skuuuuullll. haha. but my itchy fingers cant stop me from using the computer. my sushi making session was FUN! i seriously dont know how to make sushi but itsfun trying. and i must say, fora total first timer like me, my dad said my sushis were NOT BAD eh!!! LOL. the process was super fun luh! mom pulled out some colourful bits for decorating the sushi(u know the exterior of the rice ball, then they alwys have this colourful thingy ontop?), and we happily dapped plenty of it ontop. when we tasted it, OMG I TELL YOU, it felt like we were eating bits of SALT. hahahahah! i swear its super salty. so we had to painstakingly remove all the colour bits. LOL. and mom said she wont buy this brand next time. hahaha!
OHOH! i played ps2 with my parents. cus bro brought it back from his hostel (fyi he's no longer living there, cus they need to renovate or sth for the olympics ppl to stay. but he'll be going back in august). haha! we played bomberman and dance dance revolution! super funny i tell u. my parents likesome young kids playing bomberman & DDR. omggggggg, super funny. haha!
okay people! look out for my tv commercial on channel 5,8,suria,vasantham from 8-830pm okay! its by ntuc fairprice, we were doing a flash mob, about 12 of us dancing/dada-ing to a song. haha! if u see it, help me tape it down! benjamin and i wont get to see it, cus we wont be at home during that time. so yeah, tape down and show me k? hahaa. for benjamin's sake as well. thanks everyone! :D
yeahyeahyeah, i wanna start making my photo collage and upload on my blogskin! this picture up there is way too old. haha.
OHMY, i just realise sth. coming june, this blog wouldbe 3 years old! awwwww, my dearest scarletwords has been with me through thick and thin. haha. justa blink of the eye, 3 years flew. wow!
hoho, there's cheerleading training later! hola! im back! missed out the last two training last week cus i was siccckkkkk :(
peeekturesss! mich and i.
MORE TO COME. stay tuned! :D
byeee, off to school :)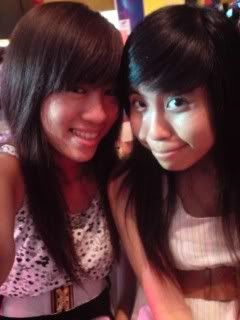 friends. what's the meaning of true friends to you?
that day, you didn't portray that image of a true friend to me
and im utterly disappointed.
in short, you've changed.