its 145pm already! some lazy pig is still sleeping. just came back from piano class, got lots to practice for my 30may performance, not forgetting my theory homework as well =/
updates updates! yesterday i finally went out! haha. supposed to meet class clique at 2pm, but pauline told me they're gonna be late, so i went fareast to get my classic pedicure done. heh! got brown colour! my nails are prettttty now. and the foot rub is damn shiokkkkk! :D
went down to centerpoint aft pedicure to find classmates. had korean bbq at crystal jade :D yummm! the food keeps coming you know! we like kept ordering nonstop luhhhh! beef, lamb, mussesl, soup, fish, cooked food, chicken, wings, spicy food etc etc. omgggggg, it was like heavenish! hahah. then, had cake " surprise" and present giving and photo takinggggg! :D the best thing was, everyone'sface had to be captured. so ytd was the day whereby the non-phototaking guys had many of their photos taken. LOL.
HAPPY 18TH BIRTHDAY JINGHAO!
went off to meet boyfriend since classmates going to sing kbox, which i obviously cant, because of a lack of voice/stuffed nose voice. walked over to cine, found him at bk with his fren, Ron, and some tpde ppl. both of them just finished their bboy class. talked, slacked, made our way over to scape for the KO night dance battle thingy. we were like kiasu birds, queuing 1hr plus before the thing, while ppl can come like half an hour before and cut the queue to right at the front
>:[ super unfairrrrr. ohwells, after 1hr plus of pure standing torture, managed to get a seating spot inside. dance was nice :) but our legs/butts got numb pretty quickly. baby's like we watch raazmy's dance den we zao. anddddd, raazmy's dance so happened to be the 2nd last item -.-
hurhurhur.
it was like 930 when we left, slowly walked to train station. & baby sent me home:) and i had to donate him a blue hairband out of my colourful collection of hairbands. haha!
it was a nice day, especially with the people that spent their day with me :D
baby, please take care of yr foot and shoulder okay. dont anyhow do stunt okay!
am looking forward to our next saturday day out :D and yes, i'll wait for you at o school for yr class to finish and we shall go out (:
love you deeeep deeeeeeeeeep:D

time for more photos!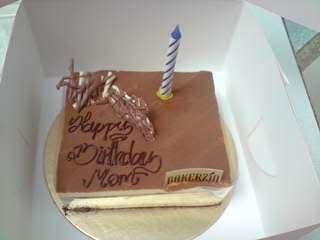 my hushpuppy dog in the car. mom's bday cake from bakerzin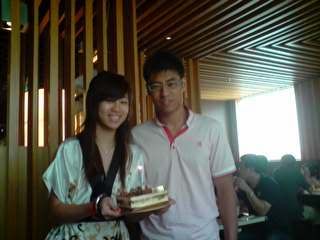 bro and i giving our surpriseeeee. happy 4_th birthday mom!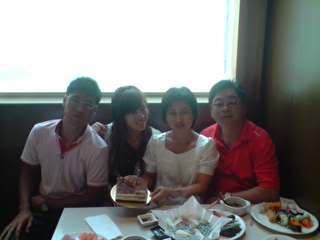 dad is always camera-NOT READY. the CHYE family :)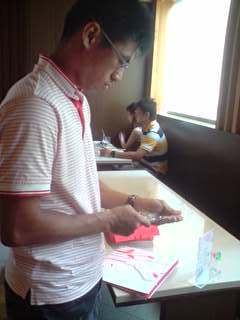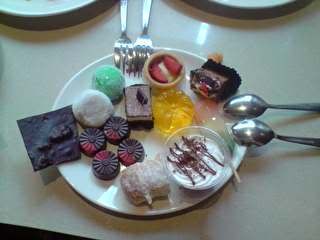 bro preparing the knifffeeeee. GAHHHHHHHHHHHHH!!!! fav partof all buffets, dessert!
i succumb to all sorts of chocolate! (except white chocolate)
camwhoreeee me. heh xD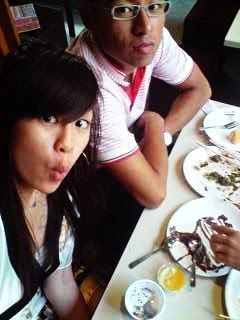 my brother, joseph.
my very own creation of ice cream :D not everyone likes mussels and sorts like me!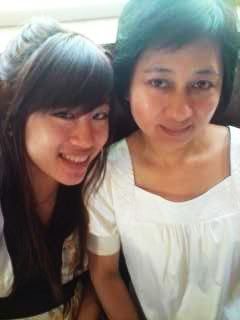 & that's my mummy
more photos coming up. i'll be uploading one photo collection for each entry post of mine. stay tuned. :DDDD
p.s. did some slight blogskin editing, and it has a new dark look! LOL. gonna change the picture at the top :) butttttt, all my pretty pictures are on my lappy. im currently on my desktop. heh! will do it soon:D
off to cook dinner! im the chef for tonight, and im making SUSHI! :D toodles!