PHEWWWWW! busy busy week has gone. im sooooo shaggggg. worked f1 from 25-27 sept, then had sports club subcom camp from 28-30 sept. ohgoddddd, im so friggggin tired. and im SICK! down with flu, sore throat, cough, fever. haha, great combi! and i still went for camp and stayed throughout.
i've got a million and one things to do now
upload subcom camp photos from camp
collate all the photos from all the cameras and upload on fb and tag ppl
resize my butter fact pictures and upload them
send glenda our shopping photos
transfer my f1 photos and send to the individual guests who request for them, then upload all on fb
clear my 100plus unread mails
do up contact list for my subcom group and send everyone
contact my bonkers planners and email them of next meeting and get ready for all kinds of reply
write minutes and edit agenda for out organizers short meeting during the camp(at night)
write agenda for next meeting
plan out games for bonkers. etc etc etc.
SLEEEEEEEEEEEEEEEEEEPPPP!!!
GOSH! my list is never ending. updateupdateupdatessss :]
friday- sunday
FORMULA ONE STARTS!!!! haha. it was really fun working at cricket club with the other female models. i was stationed at stumps terrace and i could view the race from there. my view was the many turns part. i think there's only one part of the race that has a couple of turns tgt. so yup, im stationed above there. heh! met lots of ppl at cricket club; rich, bosses, angmohs etc etc. got couple of contacts there for jobs next time. heh! had alcohol with them and all. then on the last day when lewis won first, WOAHHH, madnesss in the house. champagne popped everywhere and they all made us drink alot. hahaha! this guy kept asking us to order whatever we like; drinks, food etc. but he's nice, with his group of friends. overall, it was a nice experience working there. and i loveeee my boots, so does everyone else. HAHA!
monday- wednesday
day 1 of subcom camp. met my group, TEAM RED aka SHIT YOU! hahaha.had ice breakers then stupid balloon building game which i fear, so i went opp sch to buy vegetarian food for the 2 subcoms. then went back design LT for surprise challenge! dammmmn funny and fun :D dinnerrrrr and sleeeep. we main coms went to dance studio, put bags, had debrief and long talk with yuen huei. then the main com girls went for shower, when we came back yuen huei was alr asleep,wanted to talk to him abt bonkers. so nvm, the rest of the com went to sleep, xl and i stayed up to discuss bonkers. we got alot things out, plus our next meeting with the planning team. :)

day2 was fun. had games games and more games. went ALP site in the morning low elements games.


i left my team in the afternoon cus i wasn't feeling goood. i had like real bad sore throat, cough, flu, fever so i took a nap at clubroom until evening and missed out the whole of wet mania. so after i woke up, i helped out to prepare the night race stuff. cut lemon, ginger, apply wasabi on biscuit etc. haha, quite fun eh.

ginger!!!


these two are the "things" for one of our station in the night race. HAHAHA! dmammn funny and grosssss. i bet the subcoms sure get freaked out when they felt that. anyway, just to clarify your doubts(if you have), the left picture is a box of crickets and the right picture is a box of meal worms! :D all kickin alive. :D

haha. then went to do the video and all and nightrace started at midnight! very fun leh. had lotsa fun during night race. i loveeee rock gym! damn fun to climb here and there lor. haaha! my team finished the race first at 4plus/5am ? went back LT to rest and they went to shower. had debriefing at 630am, and showed them the video me and xiangluan created in the midst of the camp. yay! niceeeee, abit mistake only. heh. after subcoms left, we stayed back and helped to clear the logistics items. then all of us almost died. cabbed home afterwards, and i crashed in from 10am till like 4pm. HAHA!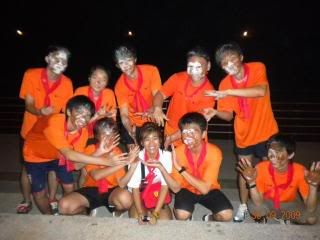 my red team! and their dirty faces are flour and melted chocolate on them. HAHA!

the video cannot be uploaded here ahhh. so go my fb video and watch it or click on this link :) finally the video is up on fb! :D :D :D
http://www.facebook.com/video/video.php?v=148839896089&comments=

tomorrow's mid auntumn festival event in school and we have to go down to help out our booth. so im gonna see doctor tml morning, then head down to school, have lunch with chris and wilson, then report to sch at 3pm.
time to sleeeeeep, im feeling sleepy already. goodnight world! :] more pictures coming up once i've uploaded them. :B