today is a lazy saturday. i spent the whole of it slacking, doing nth uptight. that's a good thing, once in awhile :)
anyway, shopping with my lovely babe, xiangluan totally made my day :D :D :D actually we wanted to conquer lots of coach boutique, but we realised there's only 3 boutiques, only 2 in town. HAHA! nevertheless, we managed to get what she wants :) yay! then off for our little shopping. heh heh, and i did bought stuff. xl bought a super cute bag! and i got myself a casual blazer and eclat perfume! YAYYYYYY!! im soooo happy! the blazer so damn nice! and we spent a super long time in the perfume shop finding for the scent i like right, xl? haha! i actually wanted anna sui. the person sprayed it onto my arms for me; anna sui on the left, eclat on the right. so xl and i kept smelling my left and right arm. haha, damn funny! then i decided on eclat! cus after awhile, anna sui smells like toilet smell to me. HAHA! and i simply loveeeeeeeeeeee my eclat perfume! im gonna wear it to our next bonkers meeting. heh heh!
oh yes, say hello to my new hairdye and highlight :) though the dye abit no diff. haha!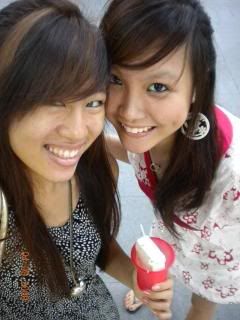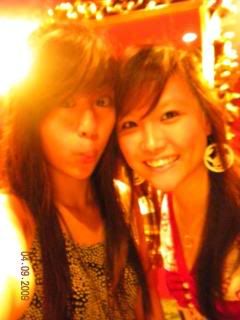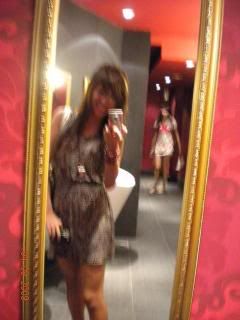 im thankful for bonkers event, cus that made me and xl close to each other and foster bonds that are precious to us. :] we're gonna be special right!
&& im sorry babe, i cant accompany u to your cleo face com thing, sorrrrryyy! :( if you have told me earlier i would have came down for u. i'll accompany u next year k? loveeeee.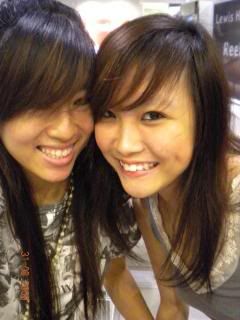 loveeeeelyyyyyyy love (: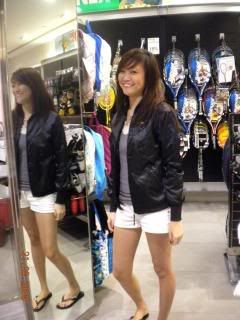 and this is xiangluan (xl) with her biker adidas jacket which she wanted quite badly but didn't get it cus not her size. haha!
tday i polished my piano, packed my bedroom, practiced my piano, played my guitar, read the newspaper and im going to go for dinner soon with my family. lovely slack day indeed.
tml im having piano in the morning, then go fitting for a shoot, followed by another shoot and done for the day. but i think i'll take pretty long. if i get my pictures for the shoot that im going fitting for tml, i'll show u guys, its going to be real awesome! i wonder how i looooook. haha! :B
time for more online shopping. its no wonder my mom loves to confiscate my card. wait till i get dad to apply a supp card for his credit card for me. haha! there's gonna be no tomorrow in my spending man!
do you even miss me?