Hello all, sorry for being MIA. haha, i've been busy lately, leaving house early, coming home past midnight... some updates....
Wednesday(4/11)

as usual a butter night (: i looked real retarded that night carrying my BCM textbook to club. -.- i was getting ready for thurs's class. HAHA! crashed over at cindy's place. super nice! :D her alarm clock kept ringing and aft hearing it for countless times, it got irritating. HAHA! her dog is really cute and she loves me. LOL. more photos are on fb...
left: sharon and i at macs. right: jacq and i outside butter
jacqqqq love! (: more clubbing adventures during dec okay! :D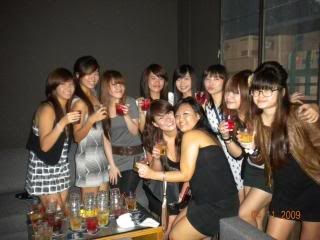 left: the "house party" as quoted from jonnyboy. right: douglas, TALL ME, eugene
left: desmond heng! right: jonnyboy!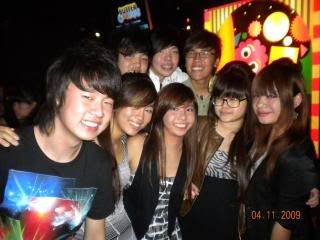 left: clubbing clique(: right: oohhh, my swim tan line. hurhurhur
left: celesteeeeee! my sec sch classmate now turned to clubbing mate. :D right: sharon again! and check out my dinosaur face. HAHA!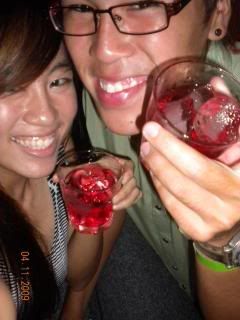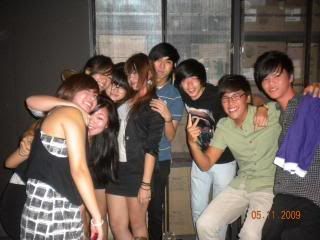 left: hardcore drinker. right: CLIQUE!!!! plus ryan and linghui.
heat up the dancefloor! juicy stuff happens there eh. :P
Thursday (5/11)

hangover wasn't that much. went over pauline's house to bake cookies tgt with pearlan and gang. the cookies turned out to be awesomeeee! then it started pouring cats and dogs. jinghao came to fetch us to sch and he just parked at the TCC porch. omg. hahaa! damn epic.

our dear sweet cookieessss! :D
seeee i got do work lorrrrr! dont say i never play a part in the baking horrrrrr. hahaha!
suhui thinking of xxxx while making her cookie. hahaa! and our beloved cookies in the oven!
this is pearl an, denise and suhui :D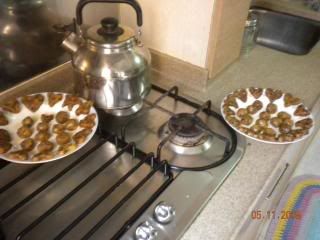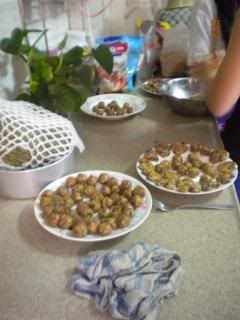 look at our pretty unbaked cookies :D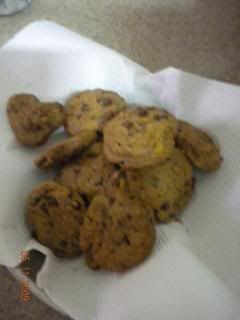 DAMN NICE I SWEAR! :D
Weekend
then i worked as a model over the weekend for SCC Rugby 7's tournament. my sponsor im in charge of is J. Ray Mc Dermott. wooohooo! saw soooo many ppl i know, inclusive of ruggers and models (: harresh was damn entertaining, kept me entertained throughout my work. heh heh. and i ate 24/7. if im not working and serving clients, im munching away. they hav like buffet you know! damn awesome. i'll show u guys pictures another time. photobucket doesn't seem to be cooperating at the moment. =x
Monday
monday was boringgggggg. i went swimming and the weather was chilly -.- met mich and SU ppl at mensa for lunch then went back to class at 4pm. went to meet pig and bob at bob's place to do report for pig -.- wthhh. dinnered at chompchomp! :D :D
Tuesday
had class in the morning, went for OTC interview with jonnyboy and matthew. then lunch at mensa and i went backkkk home. slept for awhile then bathed and changed, went out to town to meet adam my twinnie! :) he won tickets to watch the premiere of amelia, then we headed down to cuppage for some drinks.

Wednesday

was speechless. retarded org com at 8am again, went off at 10am. HAHA! went bowling. omg, epic. in conclusion, i dont know how to bowl.... then while walking halfway across the road, my slipper broke! omfffgggg, super embarrassing luh! so i had to walk half barefooted till i got another pair of slippers.
aft i got my emergency BIG slipper, i walked my fav dog :)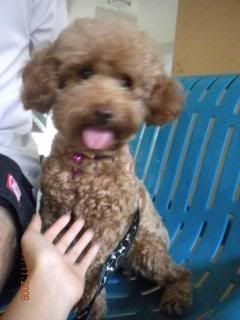 isn't she sooooooo cuteeeeee??!!! :D :D :D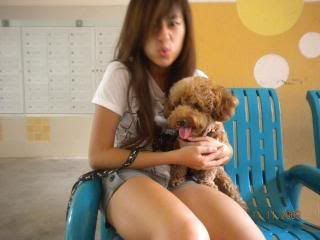 seeeeee she's so adorable and she looks like a teddy bear man! :D
then went back my place to get slippers and slack for awhile. bused back to school for cds. then here comes the speechless part.
i went back triathlon! ;D went for training right aft class. ytd first day of trng, time trial alr. wthhhhh. so this is our warm up sets: 400m freestyle, 400m pull, 200m kick, 4x50m explosive sprint. then u start your 1km time trial. then after 200m of free- easy. thennn was split into groups to improve our swimming techniques. swam diff styles and did floating etc.
im like dead beat after training. went for some food aft trng then home for dinner.
Todayyyyyy
class at 12. then im gna print my notes. 530 got sports club training. 7pm tprawks briefing, then go back sports club if they're not done with trng... meet pig, go home.
im so damn tired, but im so eager to swim and improve myself.
till then... getting ready for school. byeeeee